For those who don't know you, please tell me a bit about yourself, your work, and your life?
So I'm

Kouamé Cédric

, born and raised in Ivory Coast, Abidjan. I left Abidjan when I was seventeen and then went to France to study law. I quit law school after two years and went to communication school. Right after I received my diploma, I started doing art in Brussels. So basically right now I am studying at this art school called ERG, which is a school of graphic research. There I study installation and performance.


Did you struggle with your identity and sense of belonging in Brussels or in Europe in general?


We have this collective here in Brussels which is called

Nymphose

. The collective's filled with black art students and people of colour, who are studying at different art schools around Brussels. It's like home to me, it's like family. I had a super hard time when I first came to France. I was in this southern city called Albi, and I was actually the only black dude of the whole school. I've struggled and encountered a lot of racism. Now I have succeeded into building what we call a safe place.
"I feel that I have succeeded in building something similar to the idea of what is home."



I arrived in Brussels when I was about twenty-three or twenty-four. I was seventeen when I left Abidjan and went to France. So does Brussels feel like home? I don't know... maybe. I can't say Brussels is my home because I'm not from here. But I feel that I have succeeded in building something similar to the idea of what is home. I am surrounded by super nice creative friends and roommates.
Resdidential work 2019

"Now I have succeeded into building what we call a safe place."





How did growing up in Abidjan, feel like?
(whistles) That is quite a hard question.
It feels like home. Warm weather, people are completely different, and you hear music everywhere.
I mean... growing up in Abidjan made me who I am actually. Most of the work I am doing takes reference from when I lived there. So the whole social questioning, even questioning myself as somebody who's like a legal immigrant, somebody who's having the papers and sh*t like that, it's a position I'm questioning in my art practice.

"I mean... growing up in Abidjan made me who I am actually."



You Have said in an interview with Lens Culture that you find traditional photography flat and get very bored of it. What is it that interests you specifically about phototography ?

I don't consider myself a photographer. I don't feel like I am one of them. I use the medium of photographywith prints and things like that, but a lot of what I am doing is collecting trash photography. Basically, pictures that nob
ody wants anymore. I try to give them another form, and give them another story or another meaning. Archiving and collecting things are really important in my practice.

I know the art school Sint-Lukas with a K in Brussels, but please tell me more about ERG Saint-Luc? What can you study there and what kind of school is it?
The ERG is a French school, it's pronounced 'ergue.' Haha, it's like super ugly. Compared to other schools, it's a very experimental school. I have theory classes but they are super heavy. The whole school is based on how you struggle with your concept, on how you fit your art with the concept of self. It's very packed! I have art history, psycho-analysis, anthropology, … all that.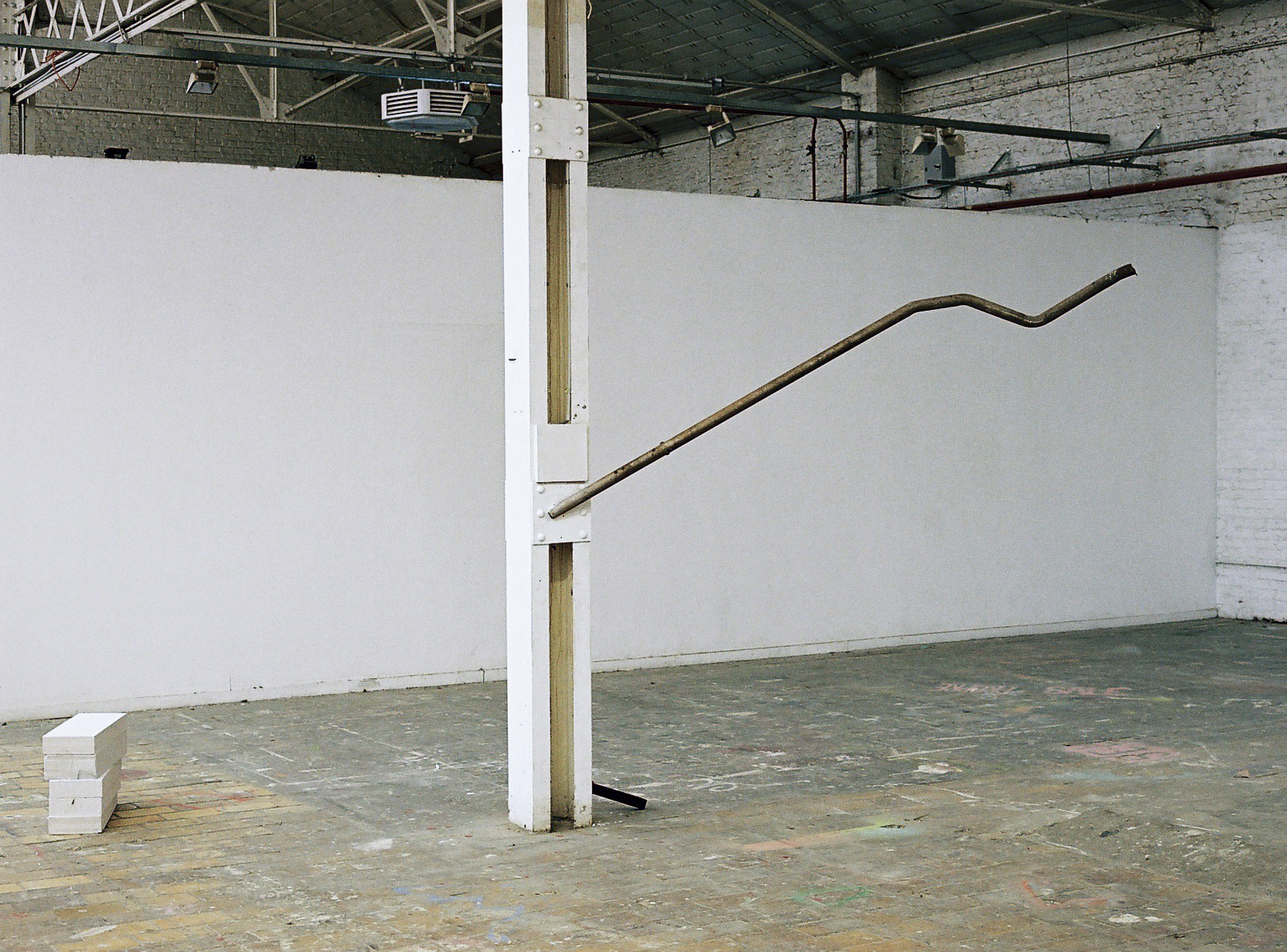 Installation View Graduation Show

The work I am doing at school is really different compared to the archival work that I am doing with the pictures. Since I've arrived in Brussels, I am doing conceptual performances and sculptures. There are a lot of concepts that I am using and I am trying to nourish all of these by reading about artists that I can relate to, from the Harlem Renaissance and people such as Amiri Baraka or even James Baldwin.
Basically, I am collecting objects. I am trying to transform them.
I am moving these objects from one place to another with the aim of changing the environment. I am moving objects from a place that's completely random to an art gallery or a white cube. It's changing the idea and the perspective of how you see an object. Most of my work that I've made since I've been in Brussels is based on that.
Can you name some artists you particularly admire?
I like

Langston Hughes

, mostly because of his essay called "The Negro Artist and the Racial Mountain". You should google it. Another one is a sculptor that I really admire called

Melvin Edwards

. He makes abstract metal sculptures inspired by modernism and uses all kind of everyday life objects.

Earplug
When you are creating, do you listen to music or do you need a silent studio?
Definitely music! I love music. Music is what keeps me alive. I'm a music nerd. I collect records, tapes, and all kinds of musical objects.


African artists are still underrepresented in the art world. What do you think should be done to improve this?
I honestly think we should rewrite art history, because most of it was written by people who didn't really want black bodies to participate in it. So yeah, I think we should reinvent it. We should just make a new art history, for sure.
"I honestly think we should rewrite art history."
How can people find out more about you and your future events?
I have two Instragram accounts! One is my personal account and the other one, called African diplomat, is my DJ alter ego and also the name of a bi weekly radio show I'm hosting on Bruzz fm 98.8

The African Diplomat show

. You can also find me as a resident DJ at Brussels based online radio's such as Kiosk radio & The word. When I'm not sharing music I am creating work in the studio.
Text: Naomi Uten
Copywriter: Anouk Fraweel
Photography: Cédric Kouamé
Published on 25.04.2020
Shake The Frame 2022 — Belgium, Brussels